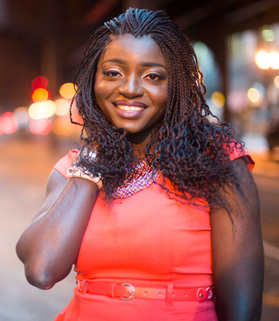 Alero Odele-Otaru is the owner and creative director at Vividesigns studio
Alero has always loved to draw, design and assemble things. As a child she enjoyed sketching her own "fashion comic books." Taking craft and woodwork classes. . Vividesigns is a gift and drawing board she has been blessed with to share her love for designing bespoke pieces, art, romance as well as to let out her creative virgo spirit
Alero graduated from University of Illinois Urbana-Champaign with a Chemical Engineering degree, and is still a practicing engineer. Her love for designing and art led her to making flyers and designs for church events and friends. This great love for designing and embellishing led to the launch of Vividesigns in 2011 after a lot of nudging from family and friends.
Alero was blessed with the opportunity to design wedding stationery for a close friend who got married early 2011 which received rave reviews, and then the stationery for her own wedding in August 2011. Since then, Alero has enjoyed creating invitations and stationery for clients all over the USA, Dubai, Nigeria, Gambia, Ghana, the UK to name a few .
Vividesigns has also been featured and publlished in multiple blogs and publicatiions including The Knot magazine, Aisle perfect and Munaluchi briide
Alero loves colors, art, Bollywood movies, classic and oldies music. She is an avid runner and a foodie.